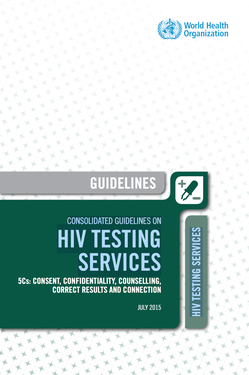 The Consolidated guidelines on HIV testing services bring together existing guidance relevant to the provision of HIV testing services (HTS) and addresses issues and elements for effective delivery of HTS that are common in a variety of settings, contexts and diverse populations.
In addition, this document provides a new recommendation to support HTS by trained lay providers, considers the potential of HIV self-testing to increase access to and coverage of HIV testing, and outlines focused and strategic approaches to HTS that are needed to support the new UN 90–90–90 global HIV targets — the first target being diagnosis of 90% of people with HIV.
Moreover, this guidance will assist national programme managers and service providers, including those from community-based programmes, in planning for and implementing HTS.