Today is a final day of the XVI European AIDS Conference held in Milan (Italy).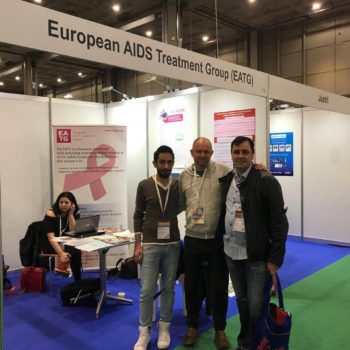 "European AIDS Conference is a step forward in taking control of HIV/AIDS epidemic in Europe. For us, the representatives of patients in EECA it is important to apply the European principles and standards of HIV treatment in all EECA region today, not in 2-3 years. And today, by being on this scientific conference, the ECUO creates new partnerships and collaborations to apply successful experience in EECA. Firstly, to provide quality and continuous, efficient treatment, and necessary services of prevention, care and support for vulnerable to HIV groups and people living with HIV", – says Vladimir Zhovtyak, President of ECUO.
Yesterday, on the Conference the updated Recommendation 9.0 of the European AIDS Clinical Society regarding HIV and related diseases treatment. The newest EACS recommendations include yet more safe and effective approach to HIV treatment in all PLHIV, irrespective of the CD4 count in patients. To initiate ART, the old drugs were excluded in adult patients, in particular, lopinavir/ritonavir, in favor of innovative drugs that have more efficient clinical effects in HIV treatment without abnormal side effects. The ECUO first and foremost advocates for the patient-oriented approach for all countries in East Europe and Central Asia.
Let's note that a little earlier, the ECUO published on its website the Position Statement which presented the ECUO's vision regarding the approaches to HIV treatment. The statement notes that in all EECA countries the standards of HIV treatment shall comply to the maximum extent with the European approaches, outlined by the Recommendations of the European AIDS Society.
For more details on the reports during the Conference, please follow our updates on the Minus Virus portal.