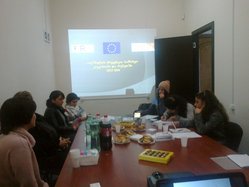 On December 26, 2012 the Cross Border Cooperation for HIV/AIDS Prevention and Impact Mitigation in Southern Caucasus and Russian Federation project team organized a training of returning migrants, currently residing in the city of Gori (Shida Kartli Region, Georgia).
The training was delivered by Medea Khmelidze, the Project Coordinator from Real People Real Vision (Local Partner Georgia), with a substantial support and assistance from a representative of National AIDS Center Natia Chokoshvili at Gori Center for Civic Engagement.
Training attendants were female returning migrants aged 25-40, who demonstrated significant interest and participation throughout the session. The training covered the basic information on HIV/AIDS and its linkages with migration. Trainer's engaging approach created friendly and interactive atmosphere enabling the participants to ask questions freely and initiate discussions on various topics.
In the beginning of the session the participants confessed their low awareness on HIV/AIDS and posed a number of questions including whether HIV can be transmitted by mosquito bite and using other person's hygiene products. The number of questions was answered by Ms. Chokoshvili, who provided valid examples from her working experience at National AIDS Center.
The attendants were particularly interested in HIV etymology, transmission routes, gender prevalence and difference between HIV and AIDS. During the part of the training emphasizing the linkages between migration and HIV/AIDS, the participants brainstormed on possible risks and hazards of migration leading to various health issues.
At the end of the training the participants expressed their desire to learn more on the given topic and Ms. Chokoshvili raised an initiative to invite a nurse from the National AIDS Center on next training, who would take the blood samples for HIV test from the participants upon their will. Almost all attendants welcomed this idea and agreed to spread the received information among their peers.
This particular training was a valuable lesson learned for the project team, since it exposed the importance of involving the stakeholders and partners in project activities on each possible level. The project team members attending the session unanimously stated that this had been one of the most successful and efficient trainings delivered over past couple of months, with a good prospect of building strong peer educator base and further cooperation with communities.