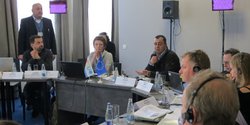 The First Regional meeting on access to treatment in Eastern Europe and Central Asia region took place in Kyiv, Ukraine from 5 till 6 March, 2013.
The meeting had the following objectives and expected outcomes:
Objectives
Review and discuss the East European and Central Asian Union of PLWH (ECUO) regional advocacy strategy on universal access to treatment including the implementation of the 2013-14 work plan.
Support and intensify the role of PLHIV and key affected communities and populations as "agents of change" at national and regional levels.
Create a constructive dialogue on how to scale up ARV treatment among stakeholders in the EECA: PLHIV, affected communities, civil society and governments, and regional bodies, and the UN.
Establish the Regional Advisory Group (RAG) to provide ECUO with informed advice by the best available evidence and good practices related to achieving universal access to ARV treatment.
Expected Outcomes
A Regional Advisory Group (RAG) for the ECUO Regional Strategy is established.
Stakeholders better prepared and committed to address the challenges and opportunities at national, regional and international level for ensuring universal access to ARV treatment in EECA region.
Activism in the EECA region is galvanized among PLHIV, key populations, affected communities and civil society.