In 2018 it will be 30 years from the point when the first HIV-infected person was diagnosed in Estonia. During this short period, this small European country is on the list of leaders regarding HIV epidemic prevalence in the region. The indicators could be even more devastating, if not the activity of the Estonian Network of PLHIV, which has received the prestigious Red Ribbon Award after three years of work, as one of the best organizations in the world combating HIV/AIDS at the local level.
Thanks to the activists of the Estonian Network of PLHIV, the country has introduced innovative approaches to HIV testing and treating.
The member of the ECUO, the director of the Estonian Network of PLHIV, Lachin Aliyev, tells what challenges the Estonian community faces.
For me, as a representative of the Estonian PLHIV Community, the HIV/AIDS epidemic is not only numbers, graphs, and indicators, but a matter of life for HIV-positive people.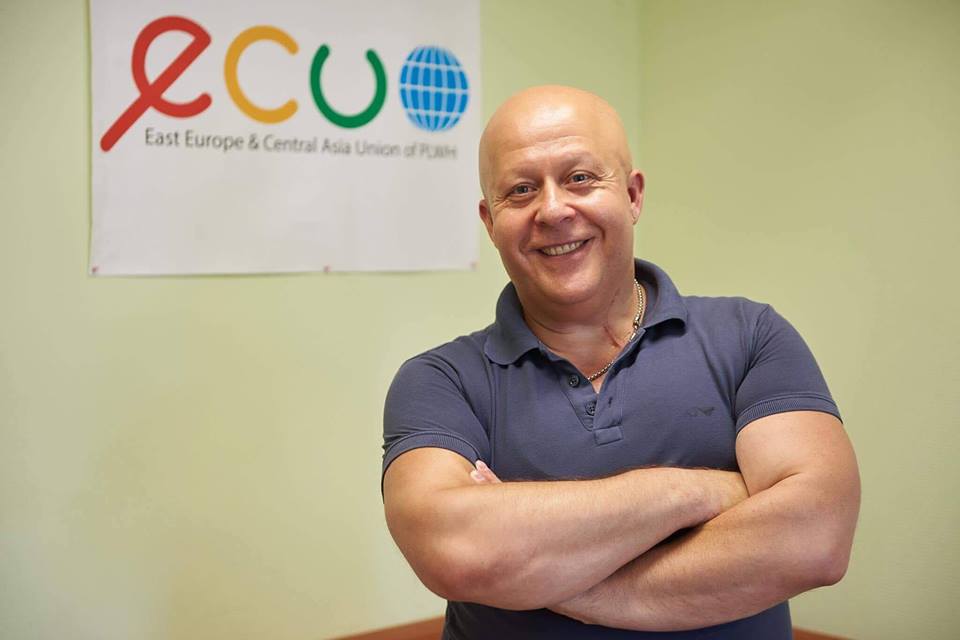 From the "disease of others" to the "problem of each"
Undoubtedly, it is impossible to cope with the pandemic alone, without the participation of all stakeholders, i.e., state institutions, officials, politicians, municipalities, physicians, representatives of the scientific community and, above all, the communities of people affected by the epidemic.
Estonia along with Russia and Ukraine occupies a leading position in the region of East Europe and Central Asia regarding the HIV prevalence, we already have about ten thousand HIV-positive people, but at the same time a modest number of those who started treatment.
From rapid testing to timely treatment
It should be noted that most of the today's self-evident practices in the fight against the HIV/AIDS epidemic were innovations that were introduced in due time thanks to the advocacy activities of the PLHIV community. In 2009, jointly with the state and international fund AHF, the Estonian Network of PLHIV has ensured that rapid HIV/AIDS testing became an integral part of the response to the epidemic, alongside with the reference laboratories and medical centers. At that time, we initiated massive outreach campaigns for testing across the country, and they quickly became recognized among the general population. For two first days of the campaign in Tallinn, we tested more than three hundred people, dozens of people lined up to find out their status. Then we detected HIV in six people. It was a revolutionary moment, after which for six months, we carried out the testing campaign in many cities of Estonia jointly with the National Institute of Health Development. In summer 2010, over a short period, we tested more than 1,500 people and identified a large number of HIV-positive people. In our further practice, we shifted our focus from the general population to target groups: first of all, LGBT community and men who have sex with men. It turned out that testing in gay clubs is in demand and necessary. Tallinn is a tourist center, and we received positive reviews from tourists from Finland and Sweden, who noted that it is impossible to test for HIV/AIDS in Helsinki and Stockholm clubs, while it's accessible and affordable in our country. We widely covered testing in social networks and specialized media, and people specifically came to the club to be tested in an environment where they feel comfortable.
In parallel, we held numerous testing events for those people who are difficult to reach medical centers because of socio-economic and psychological issues associated with stigma and discrimination. In small towns, especially in the northeast of Estonia, the life is far from prosperous. We conducted testing at mobile points or organized it locally: in social hostels, doss-houses and soup kitchens. These actions were beneficial in both identifying new HIV cases, and also those people who knew their status but haven't started treatment. The topic of "lost" people is vital, if you turn to the statistics, in Estonia, there are about ten thousand HIV-infected people, and only 4,000 undergo treatment. Where are other 6000 and why they are not treated is unknown.
Attracting such people for testing is a "jewelry work": physically, morally and economically costly. In such cases, you need motivation, because the general calls for taking care of one's health are not effective. After all, no one owes anything, if a person cares about his/her health, it's good. If not, then it's a personal choice, but at the same time, he/she should have opportunities and proper information about them, based on the situation in which he/she lives. One case is when a person knows the result and doesn't know what to do with this knowledge if he/she has many unsolved problems, dependencies, issues of debts, housing, work. If nothing hurts, he/she believes that he/she is all right. And this is his/her right!
Through the practice of all sorts of motivations: grocery sets and gift cards, we attracted people from disadvantaged groups to testing, identified HIV-infected people, and then continued to accompany them to medical centers. In Estonia, for an initial visit to the doctor, you need to pay 5 euros. Moreover, the medical centers are located in large cities, and you also need money to get from the remote places to the infectious centers. For an addicted person, or from the one from a low social environment, it's not possible, and we, personally, accompanied people for treatment. If a person confirmed the diagnosis and learns about the viral load, its only half of the case, as the next question is how to adhere to treatment. A large number of people reached the medical centers, and then never returned. And because of those people, the virus continues to spread.
The HIV/AIDS epidemic in Estonia was declared in 2001, as the one concentrated among people who inject drugs. And the epidemic has not been stopped yet. Annually, about three hundred new HIV cases are revealed, and for such a small country like ours, these figures are very dangerous.
From detection to retention on treatment
We were the first to start care and support programs in Estonia; we opened peer-to-peer consulting rooms at three infectious centers. It is very effective when HIV-positive people who treated can share their experience of accepting the diagnosis. These practices were well received in-country and abroad, and in 2008 they were recognized by the Red Ribbon Award, the Estonian Network of PLHIV was acknowledged as one of the best organizations in the world, for the successful activity in the fight against HIV/AIDS at the local level.
In 2010, our organization with the support of GNP+ conducted a study "Stigma Index", which reflected the living conditions of HIV-positive people in Estonia. A colossal work was done, we interviewed 300 people, and were the only ones in the world who also interviewed people in prisons. The results of the research showed that the life of an HIV-positive person in Estonia is complicated, as he/she need to cope with issues related to stigma and discrimination, starting from medical centers where there is a very biased attitude towards patients and ending with public opinion. It turned out that in the north-east of Estonia, some people were in horrific conditions that they had to starve.
Client-centered medicine in practice
Based on the "Stigma Index" study data, jointly with international foundation AHF, we initiated the establishment of the clinic Linda for HIV treatment. We began to build it in the north-east, in the most troubled region with the predominantly Russian-speaking population. We proposed a model of a private clinic for HIV treatment, managed by the PLHIV community and professionals.
We went through a challenging path, as the medical community was not enthusiastic about our initiative. However, at the initial stage we were supported by the state in the person of the former Minister of Social Affairs who assured us that if the clinic meets all the necessary requirements, we will receive antiretroviral drugs to treat HIV infection.
The clinic was created, with our peculiarity, as client-oriented. Meaning, if you get in you can receive the whole range of services from testing to ARV therapy, including psychological and social support.
For the Estonian Network of PLHIV, the Linda Klinik license was necessary to ensure HIV testing, since non-governmental organizations do not have the right to do this.
We built a clinic, but due to changes in the government, we were denied with antiretroviral drugs supply, and two and a half years of tough life came. We held a study and tried to convince the officials at the negotiations that the cascade of treatment differs significantly for Narva and Tallinn. The situation did not change, we started advocacy campaigns, including direct actions in front of the Ministry of Social Affairs, and photos of key persons responsible for refusing to provide ARV therapy to the clinics were posted at public transport stops with a title that these people are obstructing access to HIV treatment in northeastern Estonia. This struggle was hard, we went on a direct conflict with the state, and thereby put ourselves at risk, even to the point that legal cases were opened against the Ministry of Social Affairs for the right of Linda Clinic to have antiretrovirals for HIV treatment. All lawsuits were won by us, and the Ministry of Social Affairs was ordered to review the issue of providing treatment.
And after we received the ARV therapy in the clinic, another issue appeared – the AHF fund pushed us away from management. Now, the entity operates, we remain members of the board, but we do not manage the clinic.
In 2018, it will be thirty years since the first HIV-infected person was diagnosed in Estonia. Thanks to antiretroviral therapy, support, and faith in the future, he is full of life and energy. Success in the fight against HIV in Estonia was made possible due to the mobilization of the community of people living with HIV, which initiated effective practices to counter the pandemic. I am convinced that it is possible to address modern challenges only with national consolidation and regional integration.
We are not ending our activities just because it is a matter of life of HIV-positive people in Estonia. After all, not only pills treat, but also the human attitude.
Vladimir Zhovtyak