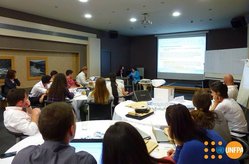 In the last days of spring Istanbul hosted a meeting for young activists from all around the world. 40 representatives from Eastern Europe, Asia, Western Europe and North America drafted recommendations for the ICD work plan (International conference on population and development) after the year 2014.
There were two participants on behalf of ECUO at the meeting – young activists from Armenia and Ukraine. These young women took part in development of recommendations re all topics of the Forum.
Among the recommendations that dealt with population and development dynamics, families and sexual education, reproductive health, social rights and inequality, attendees also paid special attention to the rights of HIV-positive youth.
"Youth, affected by HIV should be able to have direct access to medical services and medicines, should have equal rights regardless of their sex, nationality or HIV status. HIV-positive adolescents as the rest of the youth should live in society that is free from discrimination and have rights to create strong and healthy family of their own. Every HIV-positive young woman should decide for herself whether she wants to have children or not regardless of her nationality, age, social or HIV-status", underlined young activists.
All these recommendations were stated in the document and thanks to effort of the young team, it will be presented on July, 1 in Geneva at the Regional conference.
This conference will gather only 15 participants that were selected by vote of the Forum participants as the most active and creative. During voting participants noted splendid advocacy skills and creativity of ECUO representatives and as a result, one ECUO representative is going to Geneva in July.