On June 1, Small Heart with Art volunteers together with popular musicians, presenters, artists, architects, journalists, and civil society activists created a garden for Ohmatdyt patients.
Along with star volunteers, children took part in planting. Later they will take care of plants. Garden in Ohmatdyt will become a practical platform for teaching within educational program, implemented for the second year by Small Heart with Art volunteer group.
«It's very important project for us. It ensures socialization and education of children on treatment at Ohmatdyt, gives them knowledge and practical skills. This is the second season, and we are very happy to get such reliable partners as "Snidanok z 1 + 1". Children from all Ohmatdyt departments will gather in the garden once a week to listen to teacher telling about how the plants develop. Every child who planted a garden now has his/her "ward" he/she will take care of. When the child leaves hospital, he/she will relay the baton to friend to water and take care of his/her plant", – shared Evgenia Smirnova, head of NGO Small Heart with Art and ECUO Parents Union co-chair.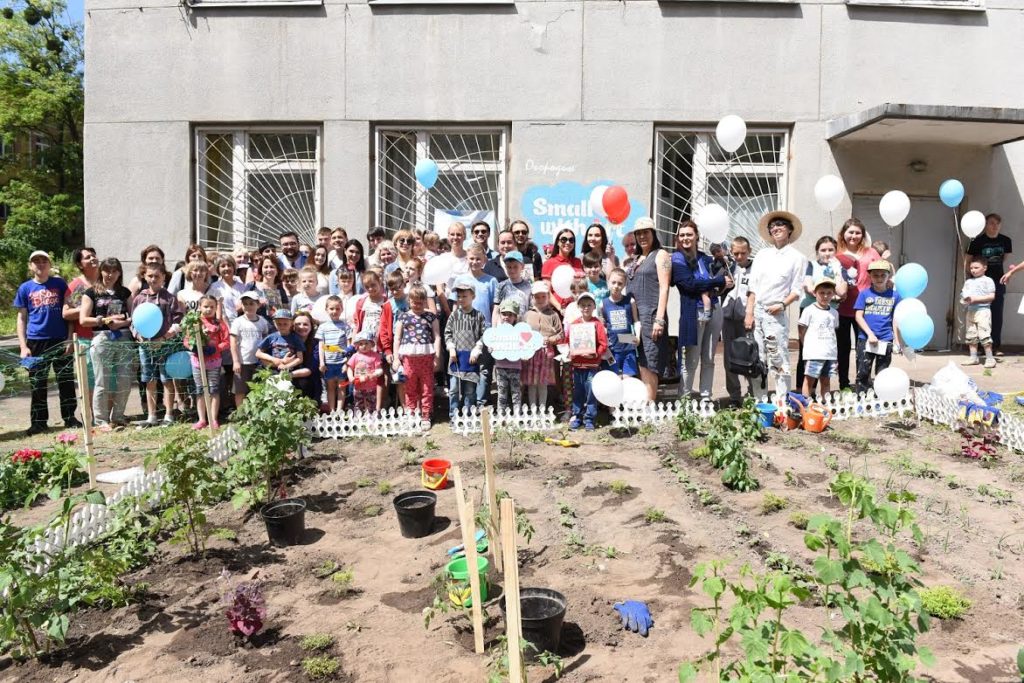 "It's interesting that many children were gardening for the very first time ever, and they enthusiastically took shovels, watered plants and distinguished their kinds: this is a cucumber, and this is some sort of flower. Moreover, this action was informative for them and brought closer to real life. Impressions are incredible, because this event is like a symbol that life can continue no matter what, all you need is just to support it.", said Ruslan Senichkin, the host of "Snidanok z 1 + 1".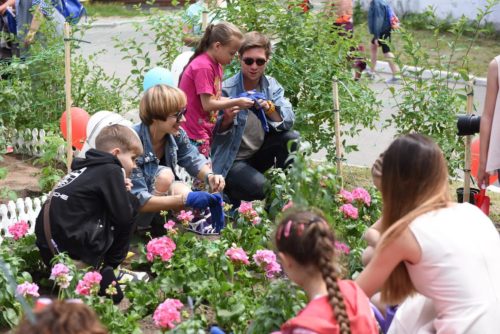 While gardening, Lyudmila Barbir, another host of "Snidanok z 1 + 1", met her young friend.
"I have a pleasant impression of this event. Surely, heart and soul hurt about these children to be healthy now, but this is the process of life, this is a matter of time. I met my young friend Karina from the Department of Toxicology, who actually lives in the hospital for 5 years. She has a little dream to get to her hometown and become a model. And I hope that everything will be fine with her, but nevertheless, we must admit that her life outside the hospital is not possible yet", added Lyudmila.
Volunteers were helped even by the first people they met.
«This action is very therapeutic, because both flowers and plants heal. Every small patient now has his/her own plant, and he/she will come, rip off that tomato and be treated. For planting on this garden I chose medicinal and energetic flowers and plants. When I was buying seedlings from "grandmothers", I mentioned it's for children from Ohmatdyt, so they gave me a discount", said Natalia Podlesnaya, psychologist, co-author of the book "Breakfasts in the Garden".
Garden in Ohmatdyt is the first stage of the educational program implemented by NGO Small Heart with Art. In the middle of June volunteers will transform it into a school based on the HIV Department of Ohmatdyt.
In autumn Small Neart with Art plans to release a charity franchise for NGOs so such schools in hospitals appeared throughout Ukraine.
For cooperation, please contact info@smallheartwithart.orginfo@smallheartwithart.org