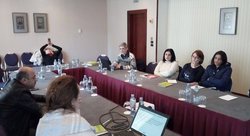 With the support of ECUO Tbilisi held a final realization results meeting on 2016 project "Increasing Resource Accountability and Sustainability for HIV Treatment and Critical Health Services that Influence The Quality of Lives of People Living with HIV in Asia, Caribbean, Eastern Europe Central Asia and Western Africa Region".
The moderators of the meeting were David Aniashvili (NGO "Real People, Real Vision") and Maka Gogya (Georgian Harm Reduction Network).
The AIDS Conference in Glasgow materials, exchange of views on the new ARV drugs, side effects and new rapid test systems took place on the year results discussion. Also, a new series of booklets was provided for HIV+ on Georgian language. First booklet was dedicated to ARV drugs and HIV/AIDS treatment. Second booklet was about co-infections of hepatitis C, HIV and methods of treatment.
Separately, on the meeting was announced the release in late December of new booklet about changes in ARV treatment, as follows: in what cases therapy changes, what are possible treatment options and what are the side effects of various drugs.
A meeting was devoted to a separate unit on a problems faced by HIV+ in Georgia. One of the most important problem is a pay treatment of diseases not dedicated to HIV. Patients have to pay 30% for such services.
The difficult question is that the GF left Georgia. It's important to note that the state fulfills its commitments but given the deteriorating trends in the economy, there may be problems in the coming year.
In this context, it was decided to be proactive: the letter was drafted on the meeting to the Ministry of Health in order to obtain guarantees for the continuation of HIV AIDS projects.
*The project is financed by a fund to support civil society networks of Robert Carr (RCNF).