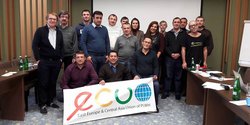 On the last week of November, Kyiv held a meeting of the Community Advisory Board of Eastern Europe and Central Asia(EECA CAB).
Representatives from Armenia, Georgia, Ukraine, Kazakhstan, Russian Federation, Republic of Moldova, Estonia, Kyrgyzstan, Republic of Belarus and Azerbaijan discussed perspective activity directions of the Advisory Board and held negotiations with companies Gilead and Cipla.
Eastern Europe and Central Asia community Advisory Board (EECA CAB) was created to improve access to treatment of HIV, hepatitis C, and TB in the countries of the region, by the forces of community of patients. eeca.cab.
The Board is held in cooperation with ECUO and ITPCru.