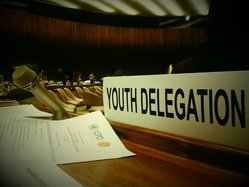 Regional conference of the United Nations Economic and Social Council (ECOSOC) was held from 1–2 July in Geneva in the light of the International Conference on Population and Development Programme of Action beyond 2014.
ECUO, in the face of Yuliya Raskevich, participated in this conference as part of the international youth delegation. One month ago our delegation comprising of 40 activists, youth representatives from all around the world developed a Call to Action in Istanbul outlining new, pressing issues that modern youth of ECOSOC region is facing (56 member-states in Europe, USA, Asia and Middle East).
Regional report was approved during the conference in the UN summarising the principles and priorities for population development beyond 2014. Call to Action prepared by the youth delegation earlier was taken into consideration while developing the report.
ECUO takes special pride that as a result of its efforts all paragraphs in the regional report mentioning the youth and their rights recognizes adolescents as a separate group!
Additionally, this document highlights (excerpts):
the need of the youth and adolescents to have access to the comprehensive sexual education to avoid unplanned pregnancy, HIV infection or other sexually transmitted diseases, draws attention to right life planning, etc.
youth and adolescents should have access to specially designed and youth-oriented programmes within framework of which they can receive candid information about human sexuality, pregnancy and childbirth, HIV and AIDS, role of gender, etc.
governments in partnership with HIV/AIDS networks and NGOs should make effective steps to stop reproductive rights abuse of women and adolescent girls […]. Participants also called on […] and protection of rights of people living with HIV in their access to sexual and reproductive services and education.
The report also underlines the main problem of ECOSOC region (particularly in Eastern Europe and Central Asia) – sexually-transmitted diseases, especially HIV infection. Conference participants have recommended all governments to take full responsibility for resolving the current situation and don't rely on donors.
Written by Yuliya Raskevich (Ivakhnina)