"We, parents from EECA, unite and mobilize the potential for improving the life quality of HIV affected children and their legal representatives in the region"


Work meeting in Kyiv gathered representatives of member and partner organizations and Secretariat of International Charitable Organization "East Europe and Central Asia Union of People Living with HIV" (ECUO). As a result, ECUO Parents Union was created.
The main discussion subject included numerous problematic issues on access to quality medical, social, and educational services for HIV-positive children, and ways to solve them, in EECA.
ECUO Parents Union  is a new priority area of ECUO activities for children's rights protection, uniting at the step of creation organizations from five countries of Eastern Europe and Central Asia:
– PF "Balakay-Shymkent" (Kazakhstan),
– NGO "Small Heart with Art" (Ukraine),
– CF ''Helping HIV affected children "Children Plus" (Russia),
– Association "CREDINTA" (Moldova),
– NGO "Estonian Network of PLWH".
Each member of ECUO Parents Union has unique long-term experience and is ready to share it with partners to ensure sustainable access to quality medical treatment, social protection and education for HIV-positive children in all EECA countries.
The need to develop such an activity within ECUO general strategy was discussed during ECUO Members' General Meeting on December 8 and December 27, 2016. An initiative group of stakeholders was created to ensure overall coordination and preparation of the meeting in March, where ECUO Parents Union was established.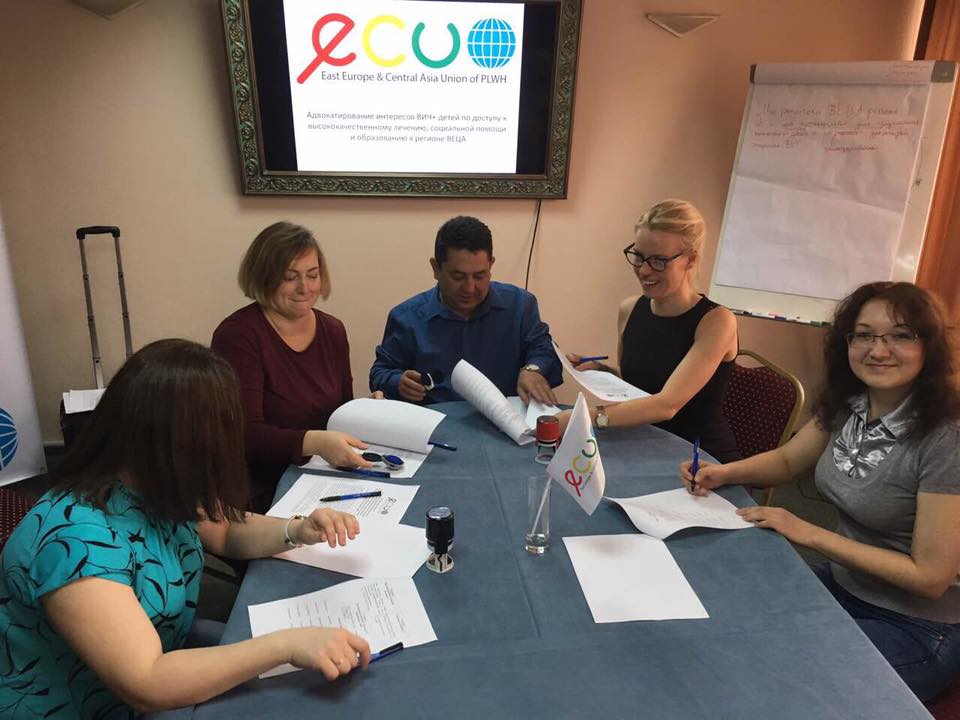 Vladimir Zhovtyak, ECUO President, while meeting opening addressed the participants with following, "In our countries, there is not enough special programs and attention for HIV-positive children, which are the most vulnerable group. To protect rights of EECA minors we need to unite, share successful experiences, and intensify work with parents, children's official representatives and immediate environment".
Kanat Alseitov, President of PF "Balakay-Shymkent", and Evgenia Smirnova, Head of NGO "Small Heart with Art", were elected during general voting as ECUO Parents Union co-chairs with equal rights.
ECUO Parents Union priority areas of joint activities for 2017-2018 are following:
Objective 1. Advocacy of rights of HIV-positive children to access quality medical services according to European treatment protocols; and provision of newest medications.
Objective 2. Providing HIV-positive children and their official representatives with social support.
Objective 3. Ensuring conditions for education

About ECUO:
International Charitable Organization "East Europe and Central Asia Union of People Living with HIV" (ECUO) is a regional "network of networks" connecting PLWH communities from 15 EECA countries.
ECUO main goal is to increase PLWH communities' impact on increasing access to treatment, care and support through PLWH organizations' capacity building and advocacy efforts at national and international levels.
ECUO is established in 2005 and officially registered in 2007. ECUO Secretariat is located in Kiev, Ukraine.
ECUO online sources:
ecuo.org – official website.
mv.ecuo.org (MinusVirus platform) –an information hub accumulating strategic information and latest news on HIV care continuum access in EECA.
arv.ecuo.org – ARV drugs online database providing information on drugs purchase prices in 15 EECA countries.
eeca.cab – EECA CAB — Community Advisory Board in Eastern Europe and Central Asia established in partnership with ITPCru in 2009. The main goal –  to improve access to HIV, Hepatitis C and TB treatment in EECA using communities' efforts and negotiating with pharmaceutical companies.