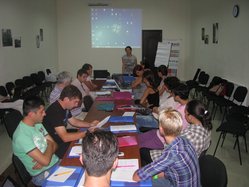 Month of September (2012) was quite fruitful for Cross Border Cooperation for HIV/AIDS Prevention and Impact Mitigation in Southern Caucasus and Russian Federation project team in Georgia in terms of networking and cooperation with participating Non-State Actors and Governmental Organizations and elaboration of National Advocacy Action Plan; these two activities — cooperation with stakeholders and National Level Advocacy Action (contributing to further Regional Advocacy Action) are the basic components of the project aiming to tangibly enhance HIV/AIDS prevention, treatment and care for migrant workers and most-at-risk populations in the Southern Caucasus and Russia.
Project team in Georgia organized 2 Advocacy Action Workshops in Batumi, Adjara Region (September 4-5, 2012) and Gori, Shida Kartli Region (September 24-25, 2012). The workshop held in Batumi was organized together with Cross-border Joint Advocacy for HIV Prevention Project (funded by World Vision Australia), which is aiming to enhance Mobility driven HIV response in Southern Caucasus Countries.
The participants included the representatives of local NSAs, GOs and International Organizations, who had confirmed their willingness to collaborate with project team and implement joint actions. The sessions were facilitated by Real People Real Vision, which is the implementing partner of the project in Georgia. Several presentations were made by the coordinators of Cross Border Cooperation for HIV/AIDS Prevention and Impact Mitigation in Southern Caucasus and Russian Federation and Cross-border Joint Advocacy for HIV Prevention Projects on past achievements and future plans. The participating stakeholders had the opportunity to get to know the mentioned projects' specifics and each others' activities as well. The interactive atmosphere enabled the attendants to get engaged in discussions and exchange ideas.
During intensive workshop sessions, including a number of group works and discussions, the domains for necessary advocacy interventions were identified. Workshop facilitators applied the methodology of case studies and further analysis for identification of gaps and defining the strategic domains to address the identified problems. The identified domains at both workshops are as follows;
Batumi Workshop:
Stigma/discrimination (fear, neglect, environmental factors, information insufficiency);
Violation of human rights (gaps in legislation or violation of specific laws/non enforcement of laws and regulations);
Antiretroviral Treatment Availability (availability of HIV treatment after the Global Fund phases out of the country);
Unavailability of migration data (definition of the term «migrant», systematized data collection, etc);
Media (low awareness of media representatives, existing demand on negative information from the side of society, no benevolence in terms of processing the information);
Integration of HIV/AIDS services and Referral mechanism;
Gori Workshop:
Migration;
Media;
Cooperation/lobbying with state sector;
Social assistance/services;
Stigma/discrimination;
Violation of human rights — problems with legislation;
One of the main outcomes of the given workshops was establishing HIV/AIDS and Migration Working Groups, consisting of most active stakeholders willing to participate in further project advocacy events and meetings. At the end of the sessions the participants expressed their desire to meet more frequently, plan joint activities and come up with effective ideas on addressing HIV/AIDS and Migration issues in their respective regions as well as on the national level.
The methodology applied by the project team in Georgia during the given workshops was afterwards shared with the project Regional Core Group as a successful practice of stakeholder engagement in joint planning of country level advocacy.