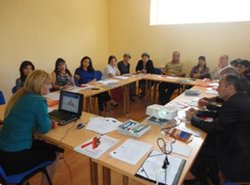 Cross Border Cooperation for HIV/AIDS Prevention and Impact mitigation in Southern Caucasus and Russian Federation project has set-up a Regional Network, which aims to elaborate the Regional Advocacy Action Plan, in order to mitigate risks and increase access to services for HIV/AIDS affected mobile populations in the region. One of the main components of the given document is the National Advocacy Action Plans elaborated by each and every project implementing team in 4 participating countries (Armenia, Azerbaijan, Georgia and Russian Federation).
Process of elaboration of National Advocacy Action Plan has been commenced in a number of implementing countries. In the month of September, 2012 project team in Armenia exerted substantial efforts contributing to implementation of the stated activity.
Project team carried out six workshops and meetings with the key stakeholders, including governmental, non-governmental and international organizations, to identify and discuss the problems hindering the accessibility of HIV/AIDS Prevention Services for the migrants, HIV related counseling and testing, treatment, and care in Armenia. The revealed problems and proposed solutions provided substantial baseline data for developing the National Advocacy Acton Plan. One of the key contributors to the process of document design were the representatives of employment agencies and migration resource centers representatives in Yerevan and Gavar, and local NGOs working with the MARPs (Most-at-Risk Populations) in Yerevan.
Workshops were facilitated by experts from State Migration Service and National Center for AIDS Prevention. Discussions were led by project team and World Vision Armenia health and advocacy experts. Workshops sessions included the presentations on HIV/AIDS epidemiology and labor migration related data, basics of HIV/AIDS, vulnerability of migrants and MARPs to the diseases such as HIV/TB/STIs, legislation on HIV and migration, related stigma and discrimination, etc. The workshop flow involved group works and other interactive facilitation methods.
The aim of conducted group works was identification of HIV and migration related problems and providing suggested solutions. As a result, the following problems were identified and discussed:
Low awareness on HIV and migration issues among the staff members of the "State Employment Service Agency" Regional Centers and Migration Resource Centers;
HIV counseling and testing issues;
Lack of cooperation between non-state and governmental organizations;
Inconsistent condom usage by the married couples;
Low accessibility of health services and irregular condom use both in host and destination countries by the migrants;
Gaps in Referral Systems;
HIV related stigma and discrimination;
Rights of PLHIV (People Living with HIV);
Underestimating women's role within the society.
Through interactive methods of facilitation and active discussions the participants got fully sensitized on HIV and migration issues; eventually they confirmed their participation in advocacy activities aiming to improve service accessibility for migrants. Representatives of government and non-government organizations shared their experience in work with migrants and other MARPs, substantially contributing to the process of elaboration of National Advocacy Acton Plan.
One of the major lessons learned from the process was that the more parties (from different, governmental or non-governmental, sectors) are involved in the process of drafting the similar document the more comprehensive and proficient result is achieved. During implementation of the activity described above, the project team in Armenia acquired valuable experience in terms of networking, partnership and cooperation with stakeholders.