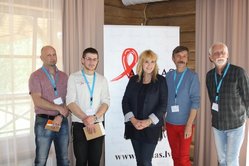 In the last weekend of May, 2016, Latvia became an important meeting place for NGO's in Baltic Sea countries (Finland, Sweden, Norway, Denmark, Germany, Poland, Lithuania & Estonia) whose work is directed towards the reduction of HIV infection and its associated risks. The Latvian NGO AGIHAS, with the financial support of 'ViiV Healthcare', organised the project 'Coalition for Change', and invited activists from neighbouring countries to find common ground and share the experience of colleagues to ensure that insufficient information and bias/discrimination are not reasons for new cases of HIV infection.
In lively discussions, the new found coalition partners gained an insight into each participating country's individual situation as well as formulated those problems common to all participants. There is much more in common than you might at first imagine, as in five of the nine countries the biggest challenge is the stigma or ignorance and fear that is felt by both those infected with HIV and society at large. This is also true even for Denmark, which is the only country in the region to have achieved the UNAIDS 2020 goals of 90-90-90 (90% of infections are diagnosed, 90% of patients receive therapy and 90% of patients undetectable HIV RNA). The problems of stigma and health insurance are characteristic also in Germany, especially Berlin, where there is a significant concentration of immigrants from Eastern Europe, without health insurance. The ignorance in Swedish society as to the causes of HIV infection creates concern for Swedish representative, Simon Blom, and the head of the Norwegian delegation, Bente Bendiksen, also stressed the low level of knowledge in Norwegian society about HIV infection. Moreover, in Poland, the majority of people still mistakenly believe that this infection affects only men who have sex with other men. Currently, the most shocking situation is in Estonia, where 1% of the population are affected by HIV infection. During the discussions, the coalition partners highly valued the experience and genuine passion that the German representative Holger Pauly, invests both in his work not only with those infected with HIV, but also their friends & relatives, as well as society as a whole.
AGIHAS will invite all the coalition partners to another meeting in a year's time, to continue to record & understand society's knowledge & understanding of HIV infection and prevention, in the Baltic Sea region countries, as well as their attitude towards those affected by HIV/AIDS. At the same time, AGIHAS hopes that the new «Coalition for change» will have these regular meetings, and they will become an annual tradition that will promote projects that will reduce the risk of HIV infection, both in each country and collectively. This is very important in the current situation were HIV infection has spread outside the confines of so called 'risk' groups', and continues to spread even further amongst heterosexuals, especially young women.