July 26, Kiev – Vladimir Zhovtyak, ECUO President, and Svetlana Kulsis, Director of Lithuanian NGO Association "Demetra", signed an agreement to receive a mini-grant of $5,000 for  ECUO country networks promotion.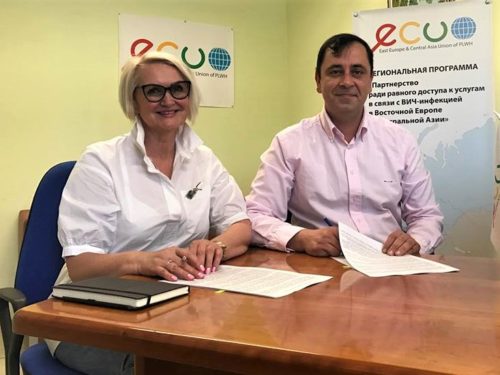 "We've just signed a grant agreement for Lithuania. Every year we continue our successful cooperation with Association "Demetra". This grant is aimed at strengthening activities of ECUO representing organization in Lithuania. These are small funds, but we are very pleased that, thanks to Robert Carr Foundation, we can support Association" Demetra" currently involved (as all of us) in a struggle for changing standards, procedures and methods of HIV testing and treatment," said Vladimir Zhovtyak, ECUO President.
ECUO mini-grants for country networks promotion were received by organizations from five countries: Public Organization "League of PLWH from Republic of Moldova" (Moldova), Charitable Organization "Meridian" (Ukraine), Association "Demetra" (Lithuania), Community of AGIHAS (Latvia), All-Polish Network of PLWHA "SIEC PLUS" (Poland).
"I would like to note that for HIV-positive movement in our country this grant is an actual and significant help, since Lithuania is the only country in Europe not supporting patient organizations. Therefore, thanks to the ECUO program, supported by GNP+, we'll have an opportunity to declare our positions. We all understand that necessary events require financial resources, which Lithuania does not have today, and we are very grateful for ECUO support," said Svetlana Kulsis, Director of Association "Demetra".
In the competition for ECUO country networks promotion grants organizations from seven countries took part: Georgia, Latvia, Lithuania, Moldova, Poland, Tajikistan and Ukraine. This grant program is funded by the Robert Carr Foundation.