17.12.2013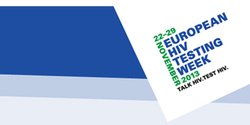 This year 22 to 29 November marks the date for the first ever European HIV testing week. It provides an unprecedented opportunity for partners (civil society, healthcare organisations, healthcare professionals and policy makers) across Europe to unite for one week to help more people become aware of their HIV status. The theme for the week is Talk HIV. Test HIV. and has been introduced to encourage people to openly talk about the benefits of HIV testing and to increase dialogue between all partners in the field.
International Charitable Organization "East Europe & Central Asia Union of PLWH" joined the initiative as a partner. We promoted the Testing Week's messages on our web-site and at Social Media platforms —Facebook and Twitter.
We have also made an interactive map with addresses of Testing points in some of ECUO member countries. Many actions in ECCA countries were carried out with the support of ECUO projects.
As a final point we have produced following digest on Testing week events and it can be used as example of best practices in promoting the idea of necessity of testing for the following years.
In Georgia all efforts in getting people's attention to the necessity of testing were united under the slogan developed by ECUO and World Vision — "Do tell your neighbor". A mobile testing was performed in 4 regions. Round tables, street and theater performance etc were broadly covered by mass — media (see links in digest).
In Armenia actions took place in 5 cities, where 426 people got tested in total. The main message of campaign was "It is not shameful to get tested for HIV". Round tables with mass media presence, street performance and performance in Universities were also a part of campaign.
Along with testing in several regions of Azerbaijan and other on-place actions, literature on HIV and testing necessity was being spread for a week in trains going from Baku to Ukraine and Russia.
In Russia all actions were supported by Miss Russia-2011 Natalya Gantimurova as long as famous pop-singer Albina Janabaeva and Red Ribbon Team. Besides actions and testing , a big press-conference with openly speaking PLWH was held in main Medical University of the country.
In Belorussia actions were supported by popular pop-stars. A car race "open house" was held and popular pop-group Open Space participated with a message of necessity for testing and healthy lifestyle.
In Lithuania testing was carried out in 2 cities and as a result out of 400 people there was only 1 case of getting HIV-positive result.
In Estonia testing was carried out in several cities and out of 471 tests 74 was HIV-positive, 19 people were immediately directed to medical center.
For more detailed information and pictures.
Author – Yuliya Raskevich (Ivakhnina)