The European HIV-Hepatitis Testing Week started today. It will last from November 17 to November 24. The East Europe and Central Asia Union of People Living with HIV (ECUO PLWH) supported the initiative and joined the testing campaign.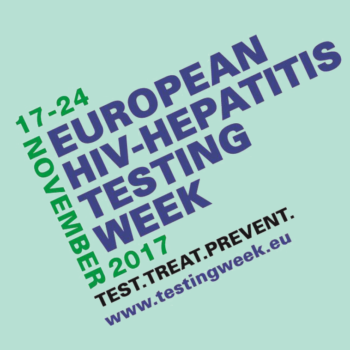 The slogan of the weekly campaign is "Test. Treat. Prevent". More than five hundred organizations from 53 countries have joined the event.
The week-long event, which was initiated in 2013, aims to help people learn about their HIV status. Since 2015, testing weeks also cover hepatitis. Infections caused by hepatitis B and C viruses are widespread among people at risk of infection or living with HIV, and these viruses themselves are transmitted in the same ways as HIV, namely, with injecting drugs and unsafe sex.
ECUO PLWH calls upon all partners to support the initiative. In order to participate in the European Testing Week, it is necessary to fill out the form on the website, to share information about the Week among its members, clients and staff, as well as to hold thematic events to draw attention to the problem of low awareness of people about their HIV status.
The testing week provides partners in all countries in the region the opportunity to combine their efforts to explain the benefits of early diagnosis of HIV and hepatitis among the representatives of the most-at-risk populations. In 2015, more than 400 organizations from 49 countries took part in this initiative, in 2016 already more than 500 organizations joined the cause. As a result, thousands of people first became aware of their HIV status and hepatitis.