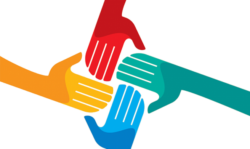 International Charitable Organization "East Europe and Central Asia Union of People Living with HIV" (ECUO) is a regional "network of networks" connecting PLWH communities form 15 EECA countries.

ECUO main goal is to increase communities' impact on expanding access to treatment, care and support through strengthening capacity of PLWH organizations and advocacy efforts at national and international levels.
Our Mission
We are the Union of PLWH organisations, an inspiring and educational resource for the PLWH communities in their promotion as leaders, equal professionals responsible for overcoming HIV/AIDS epidemic in Eastern Europe and Central Asia (EECA).
Our Goal
Adults and children living with HIV in EECA countries have access to timely, comprehensive and high-quality treatment, care and support advocated and ensured by effective partnership and committed actions of PLWH community.
Our Goals
We are the connecting point for PLWH community in EECA Region.
We believe that every person living with HIV is eligible to have equal access to quality treatment and social and medical services, regardless of age, gender, nationality, religion, race, sexual orientation and gender identity, disability, and other characteristics for which discrimination is possible.
We are the union of organizations open for cooperation with any public, state and commercial organizations sharing ECUO mission, vision and values.
We strive for responsible partnership; hence, one of the main indicators of our work is activity transparency.
We develop PLWH community through knowledge exchanges, skills and expertise formation, training and practice, in order to use a highly professional approach to work based on personal experience.
In 2005 HIV/AIDS epidemic in Eastern Europe and Central Asia reached such scale that literally each country of the region founded its own movement of HIV-positive people. Various events were held aimed at improvement of life quality of people living with HIV but most of them were isolated from regional and international initiatives. There was lack of coordination between PLWH communities in the field of advocacy; lack of expert «peer-to-peer» assistance, low organizational capacities were main barriers for handling country activities on a higher level. And so the need for founding a strong regional PLWH union effectively participating in development of policies and procedures where human rights is a basis for overcoming HIV/AIDS epidemic in EECA region was occurred.
2005

The first meeting of PLWH organisations representatives

The first meeting of PLWH organisation representatives from Ukraine, Russia, Kazakhstan, Kyrgyzstan, Uzbekistan and Moldova took place in Kyiv, in June 2005. UNAIDS Secretariat and the All-Ukrainian Network of PLWH supported the initiative to establish this regional union.

2007

Registration of the international charitable organization "East Europe and Central Asia Union of PLWH" (ECUO)

The international charitable organization "East Europe and Central Asia Union of PLWH" (ECUO) was registered in 2007. The composition of the Union included 14 countries, which eloquently spoke about topicality and timeliness of such initiative.
What we want to achieve
Today, while the world marked decrease in new HIV infections and AIDS deaths, the situation in EECA region remains catastrophically bad.
In response to existing challenges regarding ensuring sustainable and cost-effective access to ARV treatment in the EECA region, the main goal of the ECUO Strategy on ensuring access to ARV treatment is formulated:
By 2020, at the initiative of the PLWH community, 100% financing from the state budget for ARV- treatment for all PLWH who need it is provided and effectively using in the EECA countries.
With due support we [people living with HIV] can and must be at frontline and be that driving force in both our own countries and in the region through effective involvement into development and execution of programmes on overcoming epidemic. Our active participation increases urgency of the programmes, inspires others in promotion of communities of people living with HIV as leaders, equal and professional partners.
We, as PLWH community, can and must influence the situation, calling attention of political leaders and world community at difficulties of overcoming epidemic in our countries and offering solutions to solve them. We can and we must play important role in changing policies by acting at regional and international level.
To do the abovementioned and based on the priority work areas of UNAIDS "Getting to Zero" strategy, we developed regional advocacy campaign, whose activities are aimed at securing universal access to high-quality antiretroviral treatment that can save lives of hundreds of thousands PLWH throughout the region.
Download ECUO Logo in different formats
Download ECUO 10 Years Special Edition Logo
Download ECUO Visual Identity System (Brand Book)
[/vc_row]