Advocacy or public campaign is a term taken from practice of public organisations meaning campaign, which aims to represent and protect rights and interests of particular social group.
Goal of advocacy is to influence state-run institutions (organisations) to implement specific structural changes (for instance, laws) towards group, whose interests are protected in this way.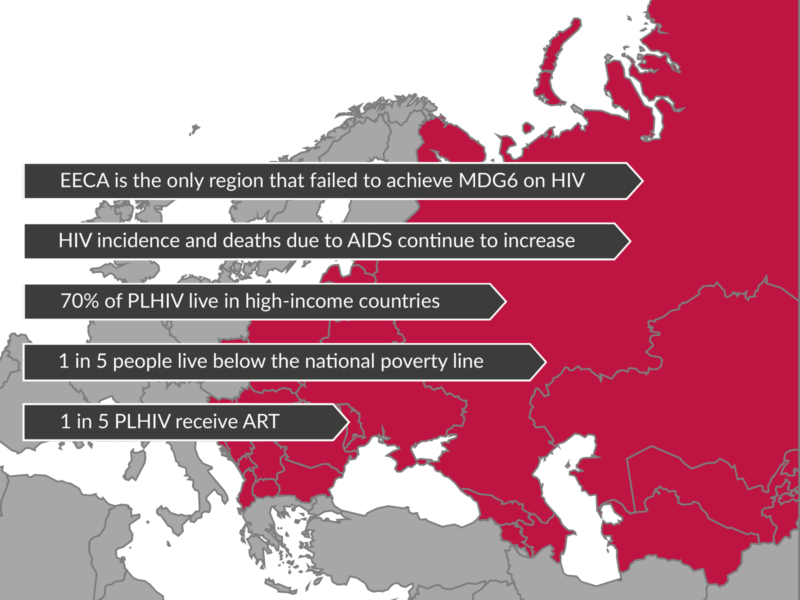 While the world celebrates declining rates of new HIV infections and deaths from AIDS, in Eastern Europe and Central Asia (EECA), the only region in the world that did not achieve the 6th Millennium Development Goal. New infections and AIDS-related deaths continue to grow.
In response to existing challenges in EECA region towards securing sustainable cost-effective access to ARV treatment, ECUO developed its Strategy goal on securing access to ARV treatment the following way:
By 2020 in countries of Eastern Europe and Central Asia, 100% of funding for antiretroviral treatment for all PLWH who need it and its efficient & effective application is ensured by the state budget.
With due support we [people living with HIV] can and must be at frontline and be that driving force in both our own countries and in the region through effective involvement into development and execution of programmes on overcoming epidemic. Our active participation increases urgency of the programmes, inspires others in promotion of communities of people living with HIV as leaders, equal and professional partners.
We, as PLWH community, can and must influence the situation, calling attention of political leaders and world community at difficulties of overcoming epidemic in our countries and offering solutions to solve them. We can and we must play important role in changing policies by acting at regional and international level.
To do the abovementioned and based on the priority work areas of UNAIDS "Getting to Zero" strategy, we developed regional advocacy strategy, whose activities are aimed at securing universal access to high-quality antiretroviral treatment that can save lives of hundreds of thousands PLWH throughout the region.
Украина
ул. Кирилловская 14-18,
Киев, 04080
Россия
Большой Казенный пер., д. 1/2.
Москва, 105064
Россия
Молдова
ул. М. Костин 7, оф. 504
Кишинев, MD-2068
Молдова
Казахстан
ул. Бухар Жырау, 66/120
Алматы
Казахстан
Литва
Kauno str. 1
01310, Vilnius
Lithuania
Варшава
ul. Modzelewskiego 63
Warszawa, 02-679
Poland